Brussels must-sees
---
This post may contain affiliate links. These links are special because we may receive a commission, at no cost to you, if you decide to make a purchase by clicking on them.
Brussels, like any capital, has a wide and varied offer of activities and must-see places to visit. In particular, most people visit the capital of Europe as part of a tour of European capitals and therefore only have a couple of hours or perhaps a couple of days to explore it. That is why in this article we will help you plan your trip to the capital of Belgium, so that you can visit all its must-sees ideally in one day. We will also show you what to do if you have more time.
Based on our experience, we have designed what we consider to be the best one-day tour of Brussels so that you can make the most of everything this city has to offer. We know that 24 hours is a short time, but here's a little secret: the historic centre of Brussels is small enough to walk through in one day, including stops at one of its many bars to taste its local beers, its world-famous Chips or its typical waffles. Let's get started!
How to get from the airport to Brussels?
Zaventem Airport (BRU), the most important airport in Belgium, is only 15 kilometres from Brussels Central Train Station (also known as Brussel Centraal in Dutch and Bruxelles Central in French). It is worth noting that the airport has its own train station and is connected by lifts and escalators. The frequency of connections from the airport to the centre of Brussels and vice versa is very convenient. Trains run almost every 10 minutes and the journey time is about 17 minutes. The price of a single ticket is around 10 euros. Another interesting fact is that this station also has direct connections to other major Belgian cities such as Bruges, Ghent and Antwerp.
At this point it is worth mentioning that you should be careful when buying your flight tickets because most low-cost airlines operate out of Brussels South Charleroi Airport (CRL), which is often referred to simply as Brussels South and leads to a lot of confusion. This airport is located 60 kilometres from Brussels, in the city of Charleroi, and does not have its own train station. In fact, the most convenient, though not the cheapest, way to travel between Brussels and this airport is to use the bus service provided by Flibco. Indeed, with a frequency of 20 minutes, their buses connect this airport with Brussels South station (Brussel-Zuid in Dutch or Bruxelles Midi in French) in about 1 hour. The price of a single ticket is around 16.60 euros.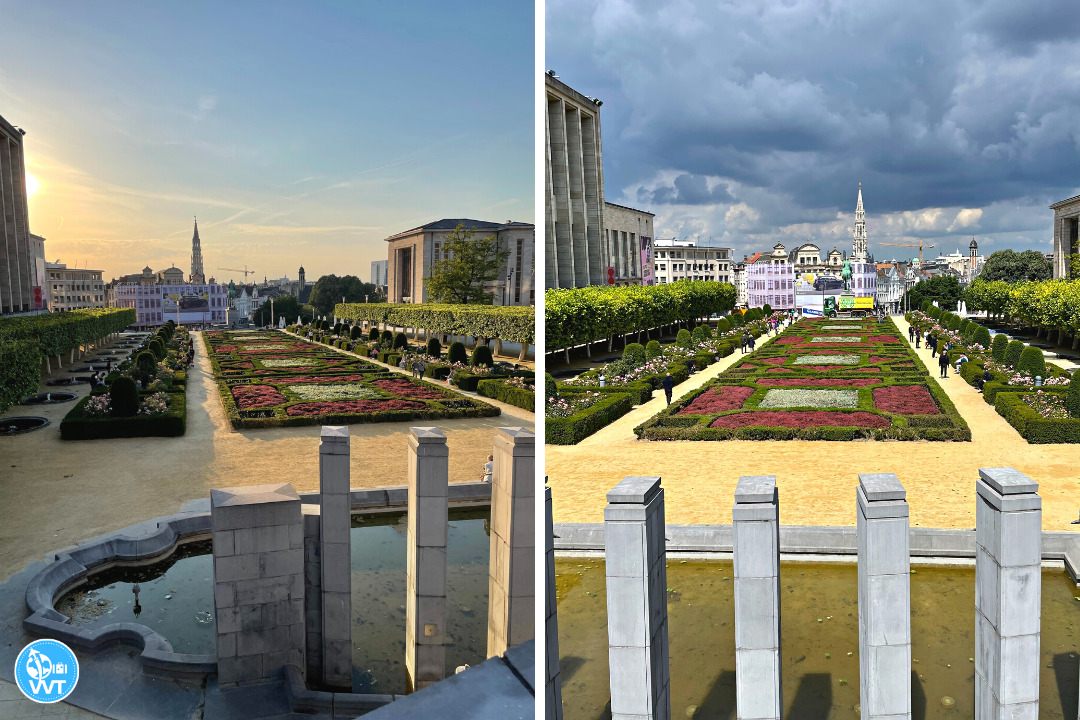 Travel Itinerary - Day 1
Grand-Place of Brussels: Undoubtedly the most iconic, photographed and recommended place to visit in Brussels is its main square (Grote Markt in Dutch and Grand Place in French). Its incredible variety of structures with typical Flemish architecture make this square one of the most beautiful in Belgium and therefore it is not surprising that it has been listed as a UNESCO World Heritage Site. Among its most notable buildings is the Brussels Town Hall (Stadhuis van Brussel in Dutch and Hôtel de Ville de Bruxelles in French), a striking structure with a unique Gothic architectural style; the King's House (Broodhuis in Dutch and Maison du Roi in French), which once served as the residence of the royal family and now functions as the City Museum; and The Pigeon (De Duif in Dutch and Le Pigeon in French), where Victor Hugo lived during his exile in Belgium.

Manneken Pis: One of the symbols of Brussels is this bronze sculpture, just over half a metre high, created in 1619, of a boy peeing. Stolen on several occasions, what can be seen today is a replica dating from 1965. A curious fact is that the boy is dressed in different costumes throughout the year and particularly on festive occasions. It is also worth noting that the Manneken Pis is not the only bizarre sculpture in the city. Nearby you can also find Jeanneke Pis, a little girl peeing, and Zinneke Pis, a little dog doing the same.

Old town and Brussels Cathedral

Cathedral of St Michael and St Gudule (Kathedraal van Sint-Michiel en Sint-Goedele in Dutch and Cathédrale des Saints Michel et Gudule in French): Another of our favourite spots in the city is its cathedral whose construction began in 1226 and was completed in 1500. Its imposing gothic architecture makes this one of the most beautiful places in Brussels. We also recommend you to visit its interior where you will find its imposing organ, its countless statues and paintings, as well as its marvellous stained-glass windows. It is located in the heart of the old part of the city and its admission is free.

Royal Galleries of Saint Hubert (Koninklijke Sint-Hubertusgalerijen in Dutch and Galeries Royales Saint-Hubert in French): These galleries are considered to be one of the first indoor shopping centres in Europe. They were designed in 1837 by the then young architect Jean-Pierre Cluysenaar and built in 1846. With a length of 200 metres, inside you will find numerous jewellers' shops, clothes shops, chocolate shops, restaurants and cafés. The interesting thing about this site is that it is located in the heart of the old town, practically connecting the area of the Royal Theatre of La Monnaie with the Grand-Place.

Mount of the Arts (Kunstberg in Dutch and Mont des Arts in French): If you want to enjoy one of the most beautiful views of Brussels, we recommend you to climb this hill. From its highest point you can see the entire city complex and one of the most photographed gardens in the city. Depending on the season of the year, you can also find live music and street performers here.

Royal Palace of Brussels

Royal Palace of Brussels (Koninklijk Paleis te Brussel in Dutch and Palais Royal de Bruxelles in French): The Royal Palace of Brussels is another of the city's most iconic buildings. It served until 1831 as the official residence of the kings of Belgium, who later moved to Laeken Palace on the outskirts of the city. The palace now houses the offices of the kings and some ministries and official meeting rooms. A curious fact if you travel to Brussels in summer, more precisely from the 21st of July (Belgian bank holidays) until the beginning of September, is that the Palace opens its doors and it is possible to visit its interior. The entrance is free of charge.

Palace of Justice of Brussels (Justitiepaleis van Brussel in Dutch and Palais de justice de Bruxelles in French): This imposing building, built between 1866 and 1883, is the seat of the Belgian judiciary and the Belgian Courts of Justice. With a surface area of 26,000 square metres, it has the reputation of being one of the largest courthouses built in the 19th century, and is still one of the largest of its kind today. Although it has been under renovation for decades and its façade is covered, the good news is that the interior is accessible. You will find many impressive rooms and best of all, admission is free. Moreover, as it is located in the upper part of the city, it is an ideal place to see Brussels from the heights.

Taste Belgian fries: Although there is a lot of controversy about the origin of fries, the Belgian government recognises french fries shops as intangible cultural heritage. If you need a quick bite to eat to continue touring Brussels without wasting too much time, then this is the perfect solution as you will also be tasting a typical Belgian dish! We recommend "Fritland", a place located in front of the Brussels Stock Exchange building in the heart of the old town.

Belgian fries and waffles

Eating a delicious waffle: Waffles (Gaufres in French) are a typical Belgian sweet dish. There are different varieties: Brussels waffles, which are rectangular and fluffy, and Liège waffles, which are rounder and sweeter. Both can be served with chocolate, fruit, icing sugar or cream, there are many options. Our favourites are the Liège waffles with cream and caramel, which you can find for example in the shop "Le Funambule", just a few metres from the Manneken Pis.

Tasting the best beers in the world: Obviously this article would not be complete if we did not talk about Belgian beer, considered by many to be the best beer in the world. In particular we can highlight Delirium, a bar that holds the Guinness record for the largest variety of beers in the world, where you can taste more than 2000 beers. Our recommendation is to try the tasting with 10 small glasses (10 cl) of different types of beer, although be careful, Belgian beers are known for having relatively high alcoholic graduations, with a concentration of 6% to 12% and in some cases higher.

Free tour of Brussels: Another of the best options to get to know Brussels is to take a free walking tour where a local usually shows you the main tourist attractions of the city and tells you along the way a bit of history and interesting facts about the places you visit. We recommend you these free tours of Brussels, although in general almost all of them are of good quality.
Below is an interactive map of Brussels where you can easily identify the location of each point of interest mentioned above. In addition, by clicking on the markers, you can go directly to the paragraph containing the information on that point. Finally, if you allow us to obtain your geographical location by clicking on the button below the map, you will also be able to see your position and thus find the points of interest more easily (reverse search provided by LocationIQ.com).
Travel Itinerary - Day 2
Below is a list of other sights that we think are worth a visit if you have more than one day in the city:
Atomium: Another typical photo of the city is the Brussels Atomium, a 102-metre high structure representing an iron atom at scale, which was built for the 1958 World's Fair. It is worth noting that not only does it offer one of the most beautiful views of Brussels, but inside you will also find various permanent and temporary exhibitions. Tram line 93 (STIB) connects the city centre with the Atomium and the total journey time is about 30 minutes.

Mini Europa: If you go all the way to the Atomium, this site is worth a visit as it is located next to the Atomium. Mini Europa is a scale model park showing 80 cities from all over the European Union. It is a really quick and fun way, especially if you visit it with children, to get to know the main European cities and monuments.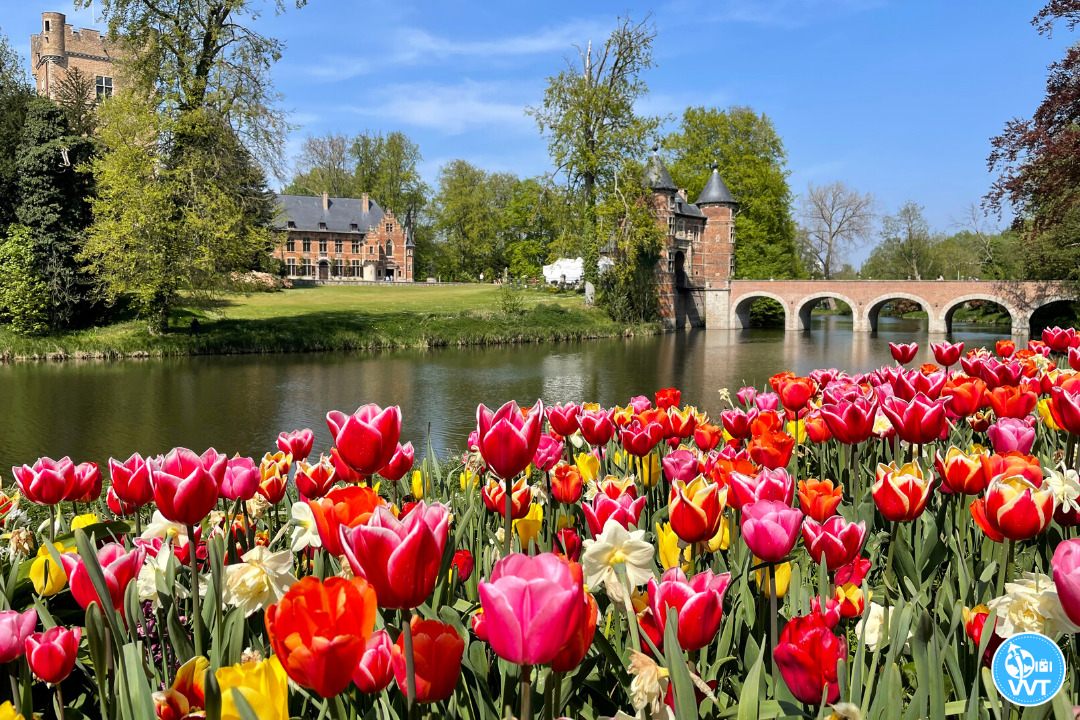 Other major attractions in Brussels
Floralia Brussels: This is a must-see if you are in Brussels during April or early May. It is a huge flower exhibition held in the gardens of the Groot-Bijgaarden Castle, just 20 minutes from the Central Train Station. With over a million tulip bulbs, daffodils and hyacinths, this exhibition is a must-see if you are a flower lover. For those who want to learn more about tulips in Belgium, we suggest you read the dedicated article where we explain all about tulips in Belgium.

Christmas Markets: For those lucky enough to visit the city in December, Brussels' Christmas market is one of the biggest and most beautiful in Belgium. In particular we can highlight the illumination of the buildings on the Main Square and the big Christmas tree. We have talked about this in depth in another article dedicated to the Christmas markets in Belgium, which we recommend you to read.
Accomodations in Brussels
Although the historic centre of Brussels can be covered in a day, it depends on how much walking you want/can do. This of course depends on the individual and in general we are in favour of walking around the cities we visit calmly, enjoying what we have in front of us at our own pace. Moreover, it is worth remembering that Brussels is a capital city and therefore the amount of activities on offer is huge. For example, there are many interesting museums that we have not mentioned in this article that may be of interest to some of you.
Having said that, we think you should spend at least one night in Brussels. Its tourist attractions, bars and museums make a day trip too short if you want to really get to know the city. For this reason, here are a few suggestions:
Ibis Hotel Brussels off Grand'Place: This is a beautiful and comfortable hotel located next to the Central Train Station, just a few metres from the Grand-Place. It should be noted that it is not a hotel that stands out for the variety of services it offers but for its excellent quality/price ratio and location.

Cocoon Brussels: For those who wish to stay in one of the most emblematic places in Brussels, with the most incredible and iconic views of the city and above all spend the night in an old restored house, then we suggest this incredible hotel located in the heart of the Grand Place.

2GO4 Quality Hostel Brussels Grand Place: For those on a budget, we suggest you consider the option of sleeping in hostels, perhaps sharing a room and/or bathroom. This one we suggest has a great location and the rating from its guests is excellent.
We are grateful that you have made it to the end of this article. If you found it useful, please feel free to share it with your friends and family by clicking on the icons below. See you next time!
Are you planning your trip? Our recommendations: