VPN = Safe web browsing + cheaper trips
---
This post may contain affiliate links. These links are special because we may receive a commission, at no cost to you, if you decide to make a purchase by clicking on them.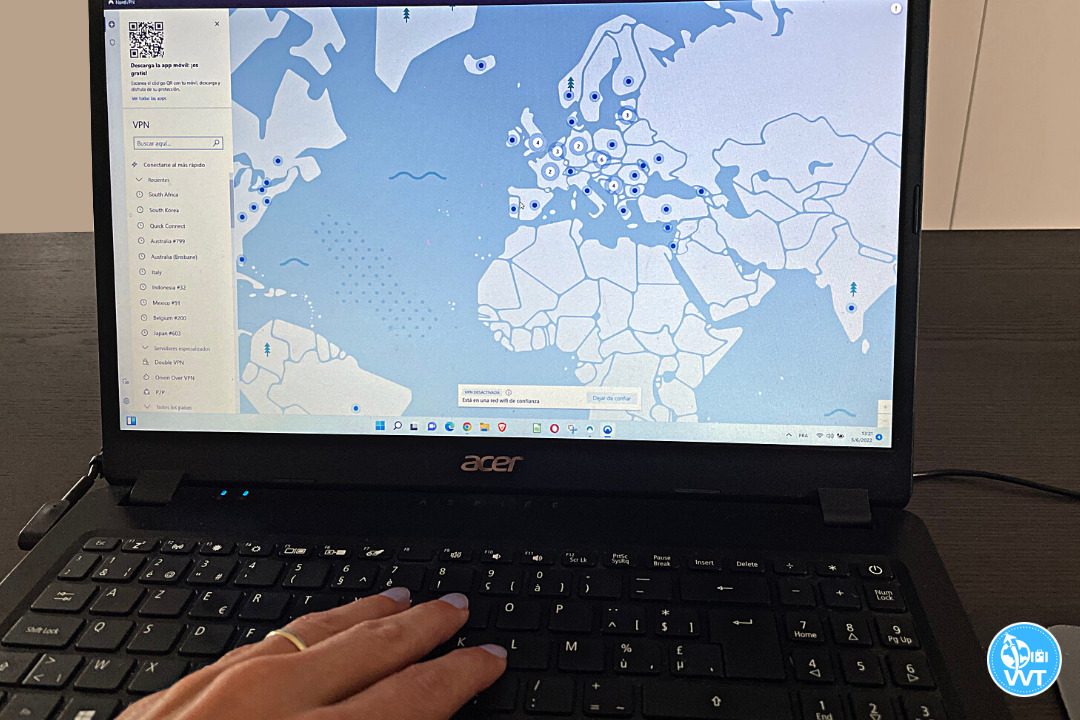 It's no news, we are nowadays in the age of technology and terms such as computers, smartphones and drones are in almost everyone's vocabulary. However, the protection of private data is a topic that is rarely discussed and this is of particular interest considering that we spend many hours on the internet on a daily basis, where information, our information, travels back and forth directly or indirectly. It may not seem important at first glance, but what if we told you that it is more important than you think? The information that is collected from us can serve multiple purposes: from the more "common" ones, such as targeted advertising based on our web browsing profile; to the more obscure ones, such as fraud and scams.
How to browse the internet safely?
One of the ways to browse the internet safely is to use VPNs, an acronym for "virtual private networks". A VPN is a type of technology that allows us to establish secure connections, protecting not only our identity but also our IP address, thus providing secure connections to any type of network. Thus, VPNs are useful not only to protect us on the internet but are also essential for people who frequently use public Wi-Fi networks, such as in hotels or airports, as well as for those who wish to access content that, due to geographical restrictions, they would not be able to access in any other way. An example of this could be accessing multimedia content from other countries, such as sports, series and movies, which are generally heavily geo-restricted.
Which VPN service do we use?
We have been using NordVPN for some time now, a service that we highly recommend and which is currently the world leader in VPN solutions. Based in Panama, NordVPN guarantees not only the confidentiality of our data but also the absence of logs through the use of diskless servers. Another feature that sets NordVPN apart from its competitors is that it offers unparalleled protection with virtually no degradation of connection speed, something that is generally a problem for this type of service. In addition, it allows you to protect not only computers but also a wide range of devices such as mobile phones, televisions and even routers. In particular, NordVPN allows us to secure up to 6 devices per licence which is more than enough for an average family. Another interesting point is their 30-day trial policy. If you bought one of their plans for the first time, you can test their tools during that period and, if you are not satisfied, the company offers 100% refunds. Finally, it's worth mentioning that not only do they accept the usual means of payment such as bank transfers or credit cards, but it is also possible to pay anonymously using cryptocurrencies.
How to connect to a VPN?
One of the options offered by NordVPN to connect to a VPN is through an application that can be installed either on the computer or on the mobile phone and is available for Mac, Android, Linux and Windows. This is the easiest option and therefore the most recommended. Another interesting option is to configure the VPN access directly from your router, which allows you to secure all the devices connected to a specific Wi-Fi network using just 1 of the 6 accounts per licence offered by NordVPN. The disadvantage of this option is that you must have a router that supports the OpenVPN protocol and this is not standard. Some inexpensive routers from ASUS, such as the RT-AC66U, the RT-AC86U or the RT-AC88U (which was the one we chose), allow you to configure it with just a couple of clicks.
How do VPNs help us to organise our trips?
Not only do we use VPNs to browse the web securely, but we also use them frequently to book hotel rooms and purchase flight tickets. It turns out that in general the prices of a given hotel room or flight ticket vary depending on the country you are in. This is where having a VPN that has servers all over the world is really convenient, as we can perform the same search from "virtually" other parts of the world and compare prices with just a single click. This allows us to book our hotel rooms and flight tickets at the most convenient price. We also recommend that you do your searches in "incognito mode" to limit the influence of cookies, so remember to always do your searches in a new "incognito window" with your VPN enabled!
What other interesting tools does NordVPN offer?
Another tool we use and recommend is NordPass, a password manager that allows not only the secure storage of your usernames and passwords but also their generation. They make use of one of the most modern encryption standards and the generation process itself takes no more than a couple of clicks. In addition, it allows you to access them from different devices, thus guaranteeing access to all your accounts whether from your computer, mobile phone or tablet. Using it is very simple: NordPass will ask you to generate and save your password every time you decide to create an account on a site or to fill in your details automatically on those sites where you have one. Best of all, you can try the tool for free for 30 days and if you are happy with the service, you can purchase either a 1-person licence or a family licence for up to 6 people. They also offer plans for companies.

We also recommend NordLocker, an application that allows you to securely store your files in the cloud. Its "Zero-knowledge" architecture guarantees that you are the only one with access to your files, i.e. only you have the cryptographic keys to decode your files. Its operation is very simple, just drag the files you want to save in the NordLocker folder and that's it, it will take care of the synchronisation with the devices you use. This is ideal, for example, for automatically backing up your files while at the same time guaranteeing their security through encryption. This backup performed by NordLocker allows you, among other things, to recover your files if your computer is damaged, lost or stolen. Your data will always be safe with NordLocker! Another interesting option is to send to the cloud those files that are rarely used, saving precious space on your local computer. It should be noted that Nordlocker offers a free version with 3GB of storage and various paid plans with different storage options that you can try for free for 30 days if it's the first time you register.