Antwerp, Belgium: The City of Diamonds [Map and Video included]
---
This post may contain affiliate links. These links are special because we may receive a commission, at no cost to you, if you decide to make a purchase by clicking on them.
Antwerp, Belgium
Antwerp is the capital of the province of Antwerp in the Flemish region of Belgium and the second most populous city in the country. It is known for being an important centre for diamond cutting and its port is one of the most important in Europe. It also has a large pedestrian centre where you will find a wide variety of shops and brands, making Antwerp an ideal city for shopping. In this article we will tell you all about this amazing city!
Where is Antwerp?
Antwerp is located in northern Belgium and is easily accessible by train from Brussels, Ghent or Bruges. Interestingly, a 10-ticket Standard Multi (Rail Pass) is available for just over EUR 80, which can be shared and allows for stopovers along the main route at no extra cost. Another thing to bear in mind is that at weekends there is a Weekend Ticket throughout Belgium, which is basically a 50% discount on return journeys. Finally, in case you are interested in evaluating different transfer options to and from Antwerp, we advise you to search using the widget below.
How to get around Antwerp?
The city is large but we suggest walking around it, as its historic centre is only a few kilometres from the central station. From the central station to the Grote Markt is only 1.7 km. Another option is to use public transport. The public transport system is provided by the company De Lijn which runs bus and tram services. The simplest way to use them is to buy a Lijnkaart travel card, which you can use either via the card or from the mobile app.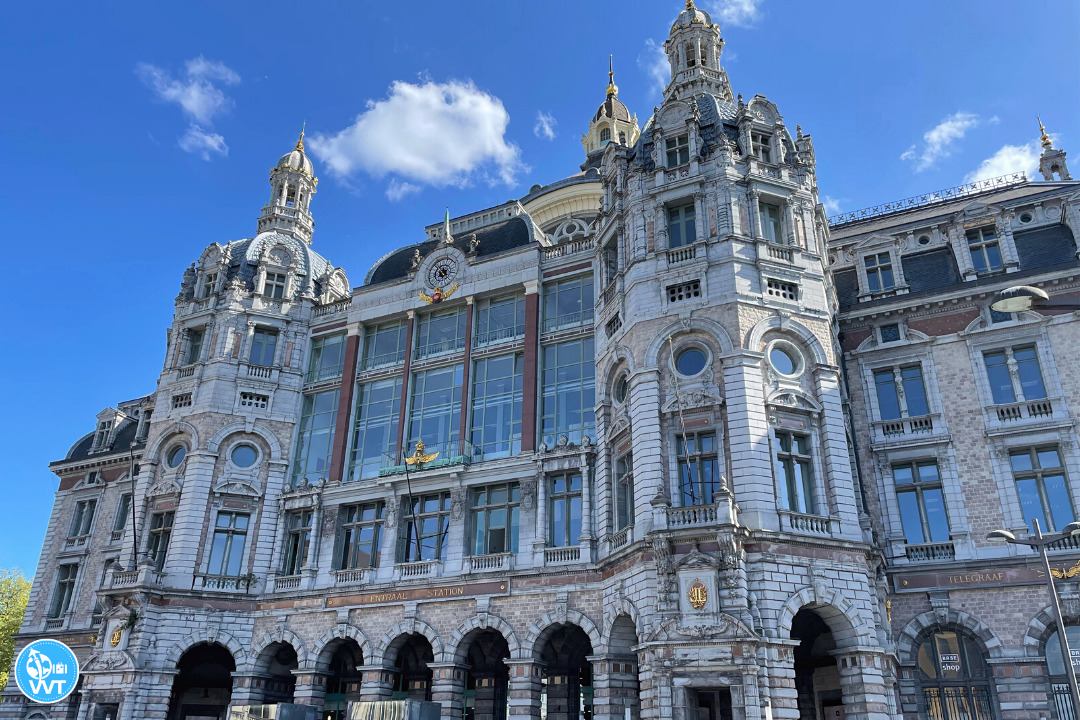 Top attractions in Antwerp
Antwerp Central Station (Centraal Station): It was by order of King Leopold II that this station was built between 1895 and 1905. Its interior resembles a palace, it is covered with marble and crowned by a large dome. It has been repeatedly nominated as one of the most beautiful train stations in the world.

Cathedral of Our Lady (Onze-Lieve-Vrouwekathedraal): It was built between the 14th and 16th centuries and is dedicated to the Virgin Mary. It is one of the most important gothic churches in Europe. Its bell tower is part of the UNESCO World Heritage Site. It contains works by Peter Paul Rubens, as well as Otto van Veen, Jacob de Backer and Marten de Vos. Regular admission is €8 and reduced admission is €6 (students, groups of 20 people and seniors over 60).

Town hall of Antwerp

The Great Market Square (Grote Markt): is located in the centre of the old town. It is lined with numerous 16th century guild houses, bars and cafés. You will also find the 16th century town hall and the Brabo fountain, which refers to the legend that gave the city its name.

Rubenshuis: It was in this house that Rubens established his studio during the last 29 years of his life. It housed more than 2,000 compositions. It is located on Wapperplatz and is now a museum about the painter. Click on this link for updated opening hours and admission prices.

Steen Castle

Steen Castle (Het Steen): This castle was built between 1220 and 1225 as a residence for the Margrave of Antwerp. It was in 1520, after the enlargement carried out by Emperor Charles V, that it was given the name "Het Steen" (the rock).

Church of St. Charles Borromeo (Sint-Carolus Borromeuskerk): It was built in the early 17th century as a Jesuit church and was the first church in the world to be dedicated to the founder, Ignatius of Loyola. It was closed in 1773 and dedicated in 1779 to St. Charles Borromeo. Interestingly, it is the oldest baroque church in Flanders.

Plantin-Moretus Museum: In 1555 Christoffel Plantin founded the world's first printing press in Antwerp. Today, it is the only museum in the world that has been declared a UNESCO World Heritage Site. Here you can find the oldest printing presses in the world, thousands of books on various subjects and an incredible art collection. We leave you the link to the official website for up-to-date information on prices and opening hours.

Port and MAS Museum

Eilandje (MAS Museum): To the north of the Old Town lies Eilandje, the oldest harbour in the city. We recommend a stroll through here as the port buildings are being transformed into offices, restaurants, exhibition venues and luxury flats. Here you will also find the MAS museum, which is the largest museum in Antwerp. In particular, the complex offers a panoramic viewpoint with unique views of the city (free admission) and public toilets.

Diamond Quarter: Since the beginning of the 20th century, the Diamond Quarter has been established in the vicinity of the Central Station. You can visit shops and workshops where merchants cut, polish and sell diamonds. As a curious fact, about 90% of the world's rough diamonds pass through this quarter.

Nello and Patrasche

Statue of Nello and Patrasche: this marble statue, located in front of the Cathedral, represents the two main characters of the novel "A Dog of Flanders" set in Antwerp. Written in 1872 by the English author Marie Louise de la Ramée, it was very popular in countries such as Japan, Korea and the Philippines. In particular, the statue has a strategic location directly related to the story of the novel and was installed in order to please Asian tourists.

Guided tours: although there is a wide range of guided tours in the city, here is our recommendation. It's best to start with a free tour and then choose the paid tours that appeal to you. As always, we also recommend strolling around the city's hidden corners, sitting in one of its many bars, taking in the scenery and enjoying all it has to offer at your own pace.
Finally, here is an interactive map of Antwerp, where you can easily find the location of each point of interest. Furthermore, by clicking on the markers you can directly access the paragraph containing the information about that place. Moreover, if you allow us to get your geographical location by clicking on the button below the map, you will also be able to see your position and find the points of interest more easily (reverse search provided by LocationIQ.com).
Spending the night in Antwerp
Although you can visit Antwerp in one day, we recommend at least two. Here are the most recommended options:
If your budget is very limited, we recommend you to evaluate the option of sleeping in hostels (perhaps sharing a room and without too many luxuries). By clicking here you will find the widest variety at the best price.

If your budget is a bit laxer, then the best option is to stay in a hotel. By clicking here you will find and book the best rooms in the most convenient hotels in Antwerp.
Where to eat in Antwerp?
Being such a large and cosmopolitan city, Antwerp has a very varied gastronomy. For lunch we opted for Ultimatum, a restaurant located on the "Grote Markt" that has some of the most iconic views of the city. Our choice was beer with fries and bitterballen. The latter is a traditional snack of Dutch and Belgian cuisine made from minced beef, broth, flour and butter.
In the afternoon we had a snack at the Hotel O Kathedral, which has an incredible view of Antwerp's Cathedral and offers a good variety of cakes and chocolates. We delight ourselves with a latte machiatto accompanied by an exquisite carrot cake. A place that we definitely recommend!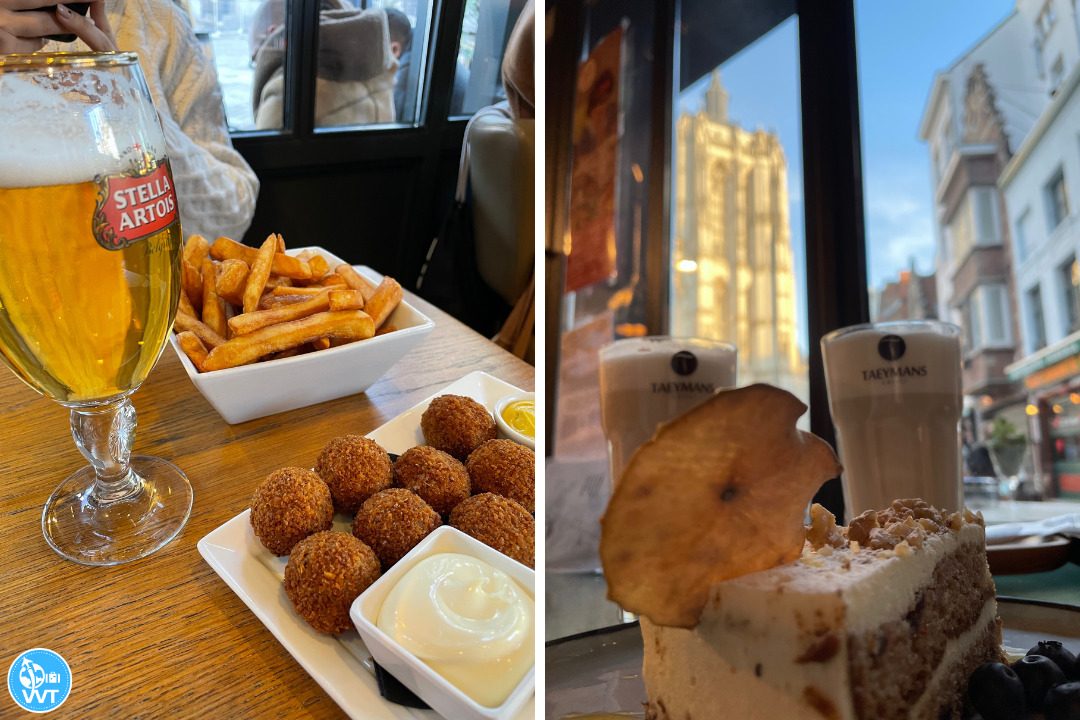 Further information?
Below is our video of Antwerp (with English subtitles), where we expand in more detail on the above. If for some reason the video does not load or you encounter any other problem in its playback, by clicking here you will be able to watch it directly from our YouTube channel.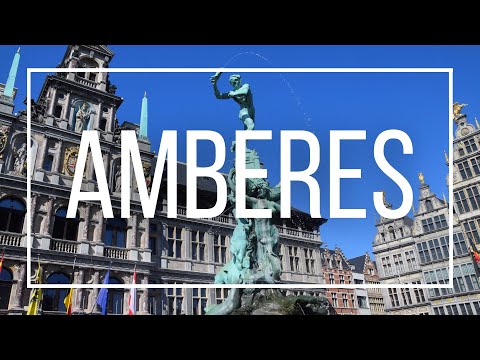 Thank you very much for making it to the end of the article. If you liked it, feel free to share it on your social networks by clicking on the icons below and subscribe to our YouTube channel by clicking here. See you next time!
Are you planning your trip? Our recommendations: