Ultimate guide to tulips in Belgium [with Maps and Videos]
---
This post may contain affiliate links. These links are special because we may receive a commission, at no cost to you, if you decide to make a purchase by clicking on them.
Tulips in Belgium? Yes, tulips in Belgium!
In this article we are going to tell you all about tulips in Belgium, a bulbous plant belonging to the Liliaceae family, native to Asia but nowadays mostly produced and marketed in the Netherlands. For most people, terms such as "mills" or "tulip fields" can be considered as synonyms for the Netherlands, but what many people do not know is that they can also be found in Belgium.
Honestly, we must confess that we did not know of their existence either, and it was not until the coronavirus pandemic that we began to investigate this subject. In particular, we were struck by how little information there was about it and that is why in this article we hope to be able to provide you with all the information you need to know where, how and when you can find tulips in Belgium.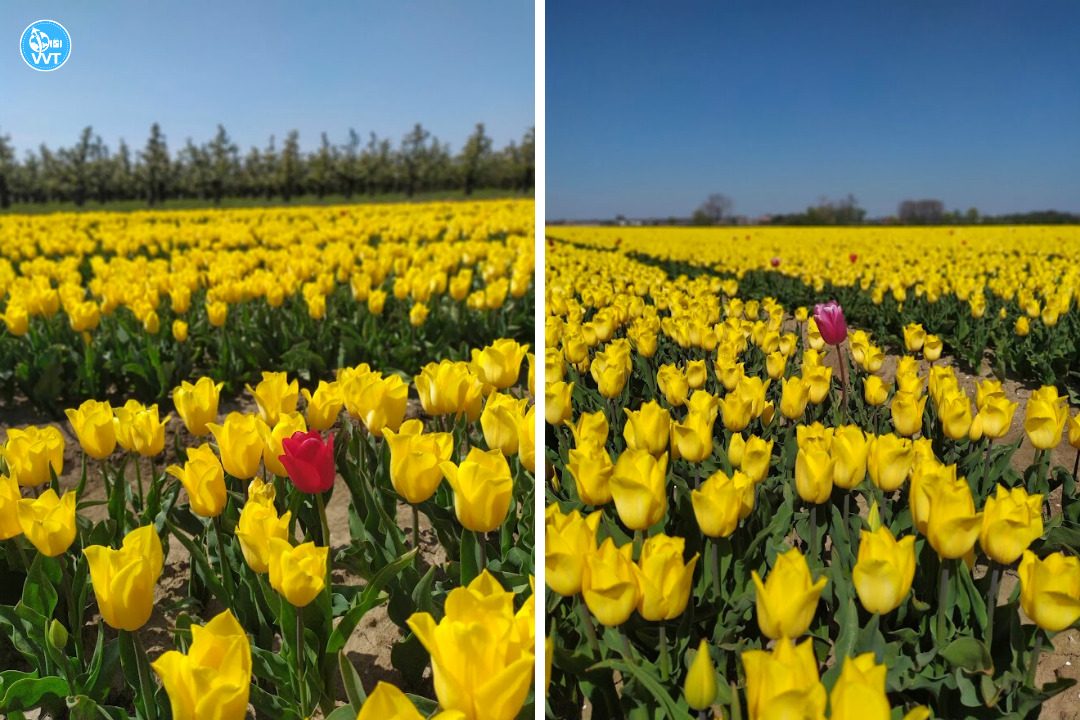 General information on tulips
The word "tulip" comes from the Ottoman Turkish word tülbend meaning 'turban' and refers to the shape of the flower when it is closed. In a simple way its cultivation could be divided into two groups:
Cultivation for bulb production: the process begins with the separation of the bulblets at the time of harvesting, which are then replanted in autumn. Once in the flowering period, all the flowers are cut off, leaving only the flowering stalk. The aim of this step is to thicken the bulb to a marketable size. A bulb is considered to be ready for flower production when it has a circumference of at least 6-8 cm at its widest part and a weight of 6-8 grams. Bulbs that have not reached this size are replanted under the same conditions.

Cultivation for flower production: in this type of cultivation the aim is to pick the flower when the colour of its petals is barely visible. The plant, its bulb and roots are usually plucked together, and at this point it is of vital importance to cut the flower stalk as close as possible to the bulb, as the longest ones are considered the most valuable. They are then placed in containers with water in cold rooms at 4-5 ºC for their preservation before being sold.
Tulip season in Belgium
Every year in spring, more specifically from mid-April to the beginning of May, the tulip fields bloom, colouring the sober country landscape. It is undoubtedly one of the most incredible and famous sights for which thousands of people visit the Netherlands. What many people do not know is that tulips are also grown in Belgium, although not on the same scale. It is mostly Dutch farmers who rent Belgian fields close to the border. What is peculiarly interesting is that they are not a tourist attraction, at least not at the moment, and are only known to local residents and neighbours.
What kind of cultivation is carried out in Belgium?
The tulips that are planted in the Belgian fields are for bulbs. This is good news for onlookers as the plants remain in the ground until they are in full bloom, which means that these wonderful tulip fields shine in all their splendour for several weeks before being cut.
Tulip fields in Belgium
It was particularly difficult for us to find these fields because, as stated above, they are not a tourist attraction and we were unable to obtain precise information on their location. Indeed, they are private fields and therefore we cannot reveal their exact location, but we can assure you that they are located between Meerdonk and Kieldrecht, two villages in the province of East Flanders close to the Dutch border. One thing to bear in mind is that growers often have to change fields from one year to the next, as the plant is very delicate. The important thing to retain is that fields will always be found in the area, in particular the region has the ideal characteristics for the cultivation of tulips.
To visit these fields we took bus number 31 of the Flemish public transport company De Lijn from the city of Sint-Niklaas, although the ideal way is to get here by car in order to be able to explore the area at your leisure, as the distances between the fields can be enormous. Below is a widget where you will find the widest variety of rental cars at the best price. It is also worth mentioning that if you are visiting Brussels, Ghent or Antwerp, these countryside destinations are an ideal outdoor excursion, only 80, 50 and 25 km away respectively by car.
Accommodation near the tulip fields
For those interested in staying more than one day in the area and enjoying these incredible fields at a more leisurely pace, here are two possible options for accommodation, although it is worth mentioning that there is little availability in the vicinity and therefore we suggest you book in advance. The first and closest to the tulip fields is the Authentieke privé-kamer bij Karen while the second is the TRUST Hotel and is a little further away.
Floralia Brussels
In addition to the tulip fields, Belgium has had a large tulip exhibition since 2004. It takes place in April in the gardens of Groot-Bijgaarden Castle, which is only 10 minutes by train from Brussels North station. Spread over 14 hectares, the exhibition has more than a million different bulbs, including tulips, daffodils and hyacinths. A must-see if you are in Belgium during the month of April. For more information we recommend you to visit the official website of the event by clicking here.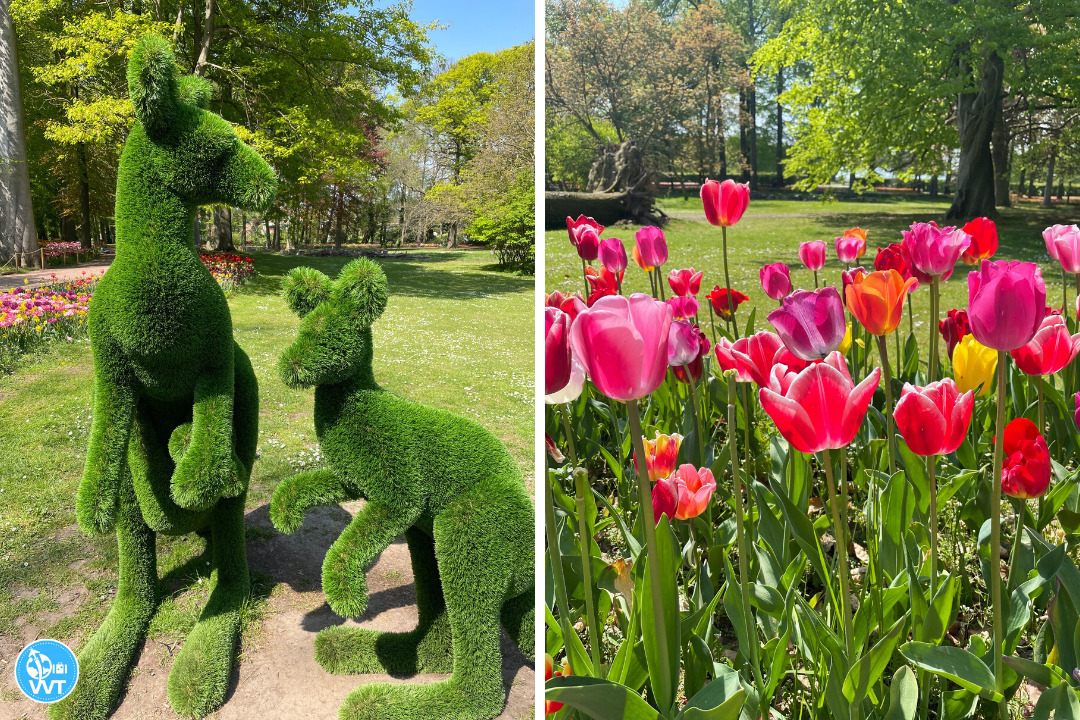 Further information?
Here are our videos where we show you both the tulip fields and the flower exhibition "Floralia Brussels". In particular, in this first video we show you everything about the tulip fields in Belgium: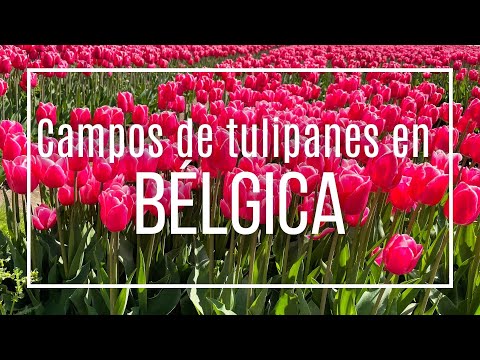 Whereas in this second video we show you the flower exhibition "Floralia Brussels":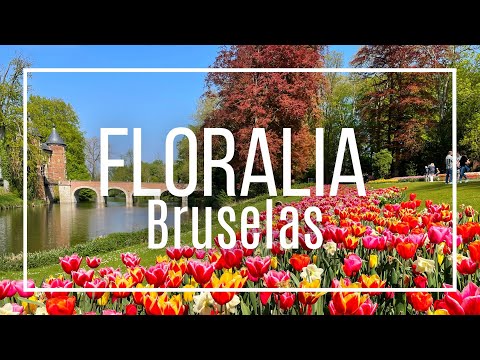 We hope we have provided you with all the information you need to see tulips in Belgium, and we thank you for making it to the end of this article. If you have any questions, please do not hesitate to contact us, we will answer as soon as possible! Finally, if you found this article interesting please share it on your social networks using the icons below and subscribe to our YouTube channel by clicking here. See you next time!
Are you planning your trip? Our recommendations: