Diest, Belgium | Discovering Flemish Brabant
---
This post may contain affiliate links. These links are special because we may receive a commission, at no cost to you, if you decide to make a purchase by clicking on them.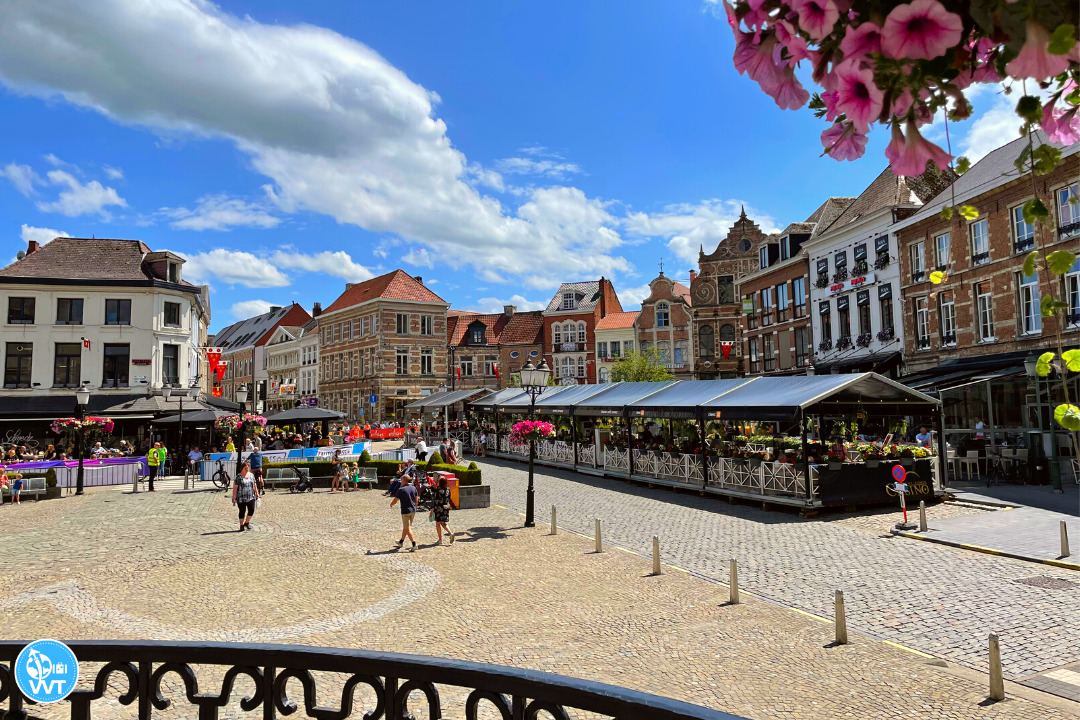 Diest is a town in the province of Flemish Brabant in Belgium. Located in the north-east of the Hageland region, it is only 30 km from Leuven and 25 km from Hasselt. Today it has about 25,000 inhabitants and its historic centre is one of the most beautiful in the area.
A bit of history
The oldest traces of human settlement in the Diest area date back to the Palaeolithic period, although the foundations of present-day Diest were laid in the Frankish period.
The town began to grow in importance from the 11th century onwards, mainly because of its trade, and reached its peak in the 14th and 15th centuries. As a result, in the first half of the 15th century Diest was one of the largest towns in the Duchy of Brabant. In particular, its textile industry was well known and offered for sale almost everywhere in Western Europe. Moreover, for almost three centuries (1499-1795) the town was in the hands of the Counts of Nassau. For this reason, together with Breda (Netherlands), Dillenburg (Germany) and Orange (France), the city is part of the Orange Cities Union.
Finally, despite repeated looting and destruction, neither of the two world wars left a deep mark on Diest. Today, it is a city with a thriving commercial centre, picturesque canal streets and a wealth of historical heritage.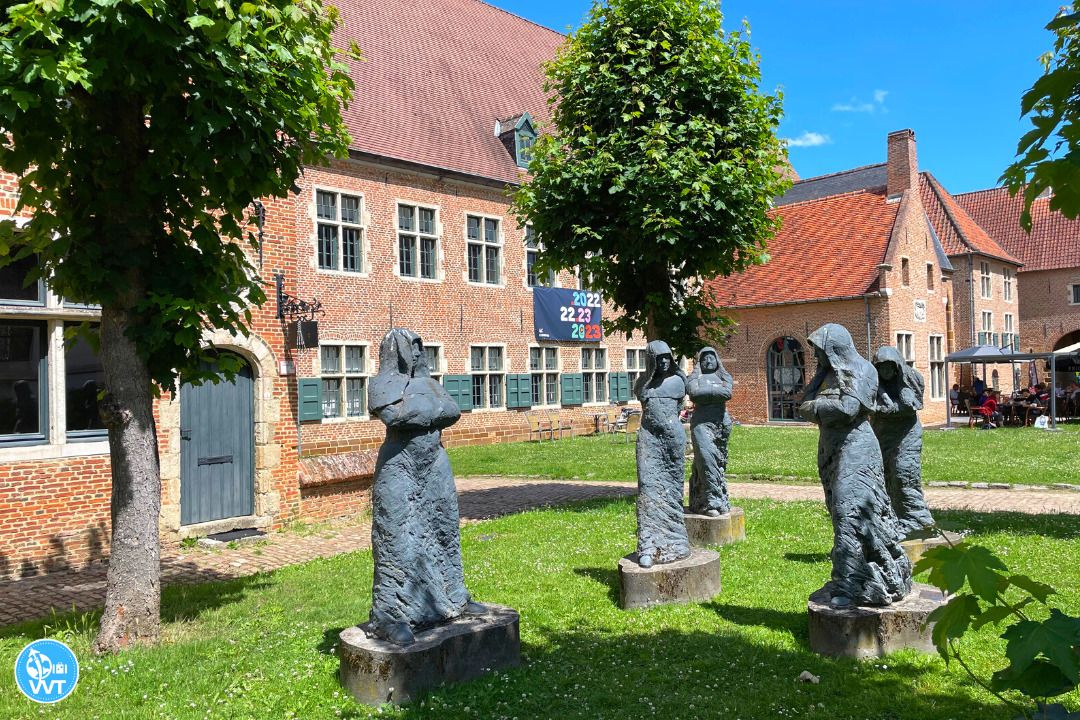 Main tourist attractions in Diest
Diest Beguinage (Begijnhof van Diest): this beguinage is one of the thirteen Flemish beguinages on the UNESCO World Heritage List. Founded in 1253 by Arnold IV, Lord of Diest, most of its houses date back to the 17th and 18th centuries. As soon as you pass through its entrance gate from 1671, you can already sense peace and quiet, it is like entering a medieval village. It has a church dedicated to Santa Catalina, a museum and a restaurant. For us it is a must-see if you are visiting the city.

Beguinage seen from the 'outside' of the city

Church of St. Sulpice (Sint-Sulpitiuskerk): built of ironstone and white limestone during the 14th and 16th centuries, this church is a typical example of Demer Gothic (Demergotiek). Interestingly, Philip Willem, eldest son of William of Orange, was buried here in 1618. Today it also houses a museum of religious art.

Church of St. Sulpice

City museum "De Hofstadt" (Stadsmuseum "De Hofstadt"): here you will find an extensive art collection that tells the story of the city. What's more, it should not go unnoticed that the museum is housed in the town hall. In fact, the museum is housed in the rooms of three medieval buildings that were demolished in the 18th century to make way for the current town hall.

Town hall of Diest

Cloth Exchange (Lakenhalle): built in 1346 in brown ironstone interspersed with layers of white stone, it has served various functions throughout its history, for example as a warehouse, school, fire station and even town hall. Today it belongs to the cultural centre and can be rented for private parties.

Refuge shelter of the Tongerlo Norbertine Abbey (Het Spijker): built in the 16th century, this house served as a refuge for the abbey of Tongerlo. In those times, monasteries and rural abbeys used to have a shelter in the nearby walled towns which they used not only for protection in times of conflict, but also as a storehouse for jewellery and relics. It has been protected as a monument since 1943 and today houses a hotel.

Shelter of the abbey of Tongerlo

Averbode Refuge House (Refugehuis van Averbode): this former shelter of the Norbertines of Averbode, built in brick and iron sandstone, dates back to the 16th century and has also been protected as a monument since 1943.

Linden Mill (Lindenmolen): built in 1742, it was originally located in Schaffen but was moved first to Assent at the end of the 19th century and then to its present location in 1960. Today it is part of the heritage of the Provincial Domain of Halve Maan.

Linden mill

Ezeldijk watermill (Ezeldijkse watermolen): this watermill was erected by the Princes of Orange-Nassau in 1553. The structure has a typical Flemish Renaissance style and was in operation until 1946. It later served as a sluice on the Demer until it was diverted around the city.

Watermill Ezeldijkse

Church of St. Barbara (Sint-Barbarakerk): built between 1656 and 1667 by the Augustinians, it is the only baroque church in Diest and is built in red brick combined with brown iron sandstone.

Ruins of the church of Saint-Jean-Baptiste (Sint-Jansruïne): this catholic church was founded in 1253 and converted into a collegiate church in 1297. Destroyed in 1580 by the troops of William of Orange, only the choir was restored and remained in use until 1823. Finally the roof over the choir collapsed in 1853 and was never repaired.

Provincial Estate De Halve Maan (Provinciaal Recreatiedomein De Halve Maan): with a recreational area of 50 hectares, it has playgrounds, an outdoor swimming pool with beach, a mini-golf course and lakes with pedal boats. All this makes this park a perfect excursion for the whole family.

Cerckel Park (Park Cerckel): acquired by the city of Diest in 1990, the pond, bridge, grotto and arched gate were subsequently restored. Only in April 2011 did the park reopen to the public. It is a beautiful green space in the city centre, with lots of greenery, which we enjoyed walking through during our visit to the city.
Finally, we provide you with an interactive map of Diest, where you can easily identify the location of each point of interest mentioned above. In addition, by clicking on the markers you will be able to access directly to the paragraph containing the information about that point. Moreover, if you allow us to obtain your geographical location by clicking on the button below the map, you will also be able to see your position and thus find the points of interest more easily (reverse search provided by LocationIQ.com).
How to get to Diest?
Diest is located only 60 km from Brussels and the journey time by car is approximately 1 hour. Our recommendation if you are going to rent a car is to do it through this link, where you will be able to access the most varied and convenient offer.
However, we believe that the best means of transport to visit Diest is by train. For example, the journey from Brussels Central station takes about 45 minutes, while from Antwerp it takes 1:15 hours and from Hasselt it's only 15 minutes. The Standard Multi (Rail Pass) is a 10-ticket train ticket available for just over 80 euros, which can be shared and has the peculiarity that you can make stopovers along the main route at no extra cost.
Finally, if you are interested in evaluating different options on how to get to Diest from different cities, we recommend you to search from the widget below.
Where to stay in Diest?
Although it is possible to get to know Diest in one day, we recommend at least two in particular in order to explore all the corners of the city at your leisure, visit its museums, enjoy its beautiful green spaces and explore one of its many bars at night without guilt. That is why we leave you with two accommodation options below:
The Oranje City Hotel: If you want to spend the night in an old building, this hotel is the one for you. It is located in a charming 16th century building in the historic centre of this enchanting city. All rooms have a warm atmosphere and are equipped with a private bathroom. Breakfast is available for an extra charge.

B&B La maison de Fille: If you are on a tighter budget we recommend this B&B on the outskirts of town. It has a fully equipped kitchen with fridge, oven, coffee machine and kettle. Breakfast is included in the price and vegetarian, vegan and gluten-free options are available.
Where to eat in Diest?
Like most Belgian cities, Diest has a wide variety of restaurants. We only had a few refreshing beers in a bar in front of the town hall, although we must confess that if we had had more time we would have sat down on one of the many terraces to try some of the typical dishes. In case you are interested, we leave you here a link where you will find plenty of information about the gastronomic offer in Diest.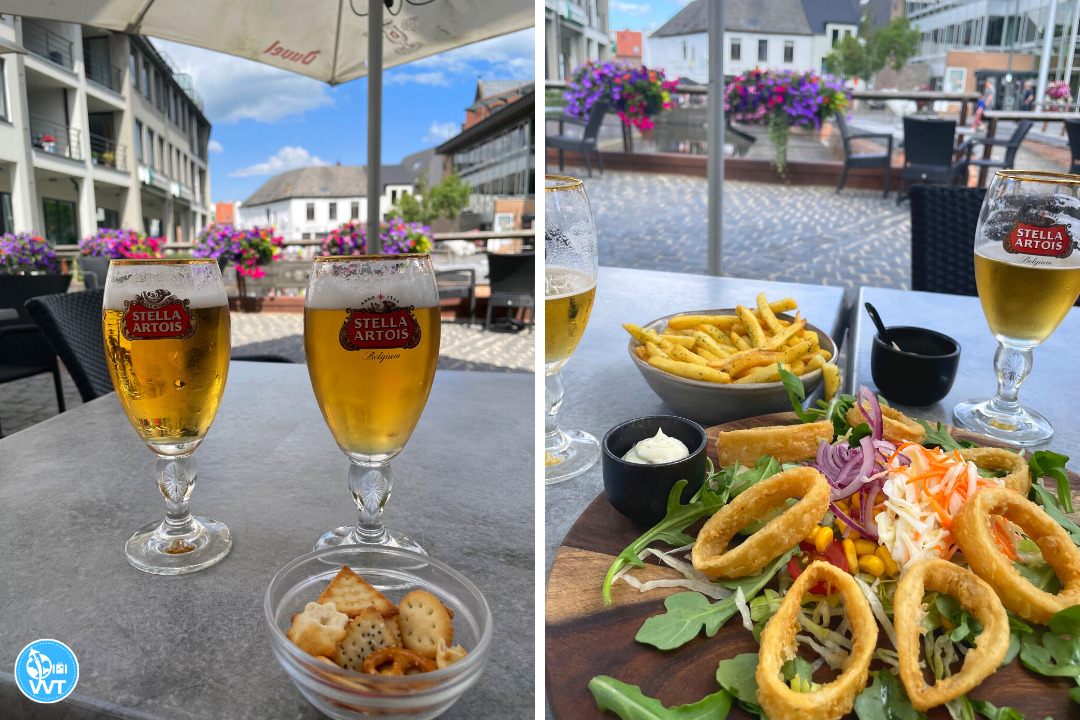 Further information?
Here we leave you our video of Diest (with English subtitles), where we take you on a virtual tour of the city with us. If for some reason you have problems with the playback, by clicking here you will be able to watch the video directly from our YouTube channel.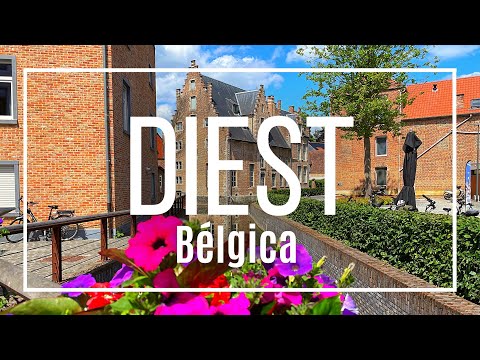 Thank you very much for making it to the end of this article. If you liked it, feel free to share it on your social networks by clicking on the icons below and subscribe to our YouTube channel by clicking here.If you have any questions, please do not hesitate to contact us, we will respond as soon as possible. See you next time!
Are you planning your trip? Our recommendations: