Bacharach, Germany | A magical village on the Rhine
---
This post may contain affiliate links. These links are special because we may receive a commission, at no cost to you, if you decide to make a purchase by clicking on them.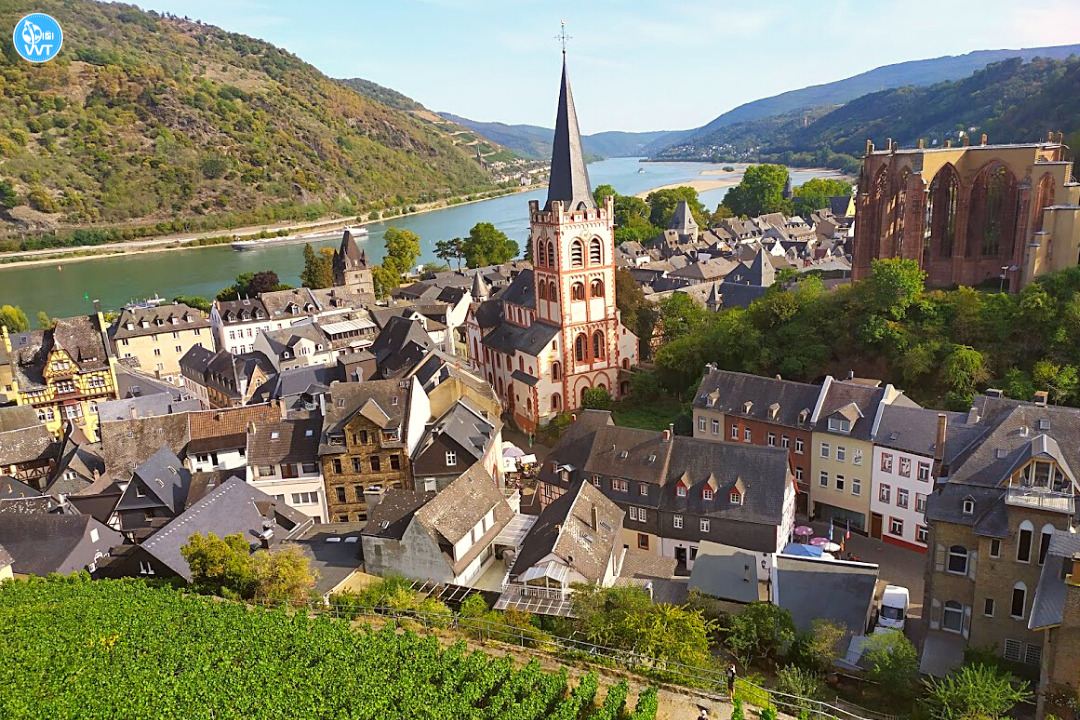 Discovering Bacharach
Bacharach is a small town near Koblenz in the German state of Rhineland-Palatinate. It is located in the Upper Middle Rhine Valley, which is a UNESCO World Heritage Site. The name of this city refers to Bacchus, the god of wine in Greek culture. And, in fact, this area has been known for its wine practically as long as it has existed. Interestingly, although there is a record of its pre-Roman existence as a Celtic settlement, Bacharach was first mentioned in a document in the early 11th century.
Nowadays, time seems to have stood still in the city as its architecture dates back to ancient times. It is also widely known for offering incredible views of the Rhine Valley, with hilltop castles, towers, gates, remnants of city walls and fabulous vineyards, in short the perfect combination to create a medieval atmosphere.
Where is Bacharach?
Bacharach is located in the east of the state of Rhineland-Palatinate, about 48 km from Koblenz and 90 km from Frankfurt. It is well connected to the rest of Germany, both by motorways and trains. We chose public transport, as we really enjoy travelling by trains in Germany. There are direct trains from Koblenz and Mainz leaving every hour with a journey time of 35 minutes and from Frankfurt the journey takes about 1.30 hours, with only one connection. The Deutsche Bahn (DB), which is Germany's main railway company, has Regional Tickets which allow you to combine different means of public transport for one or more people across the regions (states) that make up Germany. Another option is to rent a car, the scenery around the region is amongst the most beautiful in Germany. Finally, below you will find a widget with which you can evaluate different options on how to get to Bacharach from any other city.
What to see in Bacharach?
Below you will find a list of what we consider to be the top places of interest in Bacharach. These are as follows:
Post Tower (Postenturm): the origins of this tower date back to the 14th century, when it was part of the fortifications of the city and its vineyards. It later served as a water reservoir and is now used as a lookout point. It was last renovated in the 21st century and was only opened to the public in 2005.

Old House (Altes Haus): this house is so named because it is the oldest building in the city. Built in the typical medieval half-timbered style, it dates back to 1368 and survived the fire that destroyed many of the town's buildings in the early 19th century. It now houses a picturesque restaurant.

Photo of the "Old House" (Altes Haus) in Bacharach, Germany

Werner Chapel (Wernerkapelle): this chapel is another of the unmissable places from where you will be able to admire the surrounding scenic beauty. It was built in memory of Werner of Oberwesel, a 16-year-old boy who was murdered in the 13th century. Its ruins are under monumental protection and a plaque commemorating the inhumane crimes perpetrated against the Jewish residents has been placed in front of them.

St. Peter's Church (St. Peter Kirche): this Protestant church was built between 1230 and 1269 as a basilica and renovated at the end of the 19th century. It can be admired from any part of the town as it is located in the historical heart of Bacharach.

Stahleck Castle (Burg Stahleck): This castle was probably built in the late 11th or early 12th century. The Rhenish Association for the Preservation of Monuments and Heritage Protection acquired the castle complex in 1909 and reconstruction work as a youth hostel began in 1925. Today the youth hostel is still in operation, so it is not possible to take a tour inside. However, you can still enjoy the views of the valley from the large terrace-viewpoint.

Photo of the Bacharach vineyards, Germany

View from the vineyards: an unmissable walk is the uphill but easy hike through the vineyards to the tower (Postenturm). From here you will get the most splendid panoramic views of the city and its wonderful valley.
Finally we leave you an interactive map of Bacharach, from where you can easily find the location of each point of interest. Furthermore, by clicking on the markers you can go directly to the paragraph containing the information about that place. Moreover, if you allow us to obtain your geographical location by clicking on the button below the map, you will be able to see your position and find the points of interest more easily (reverse search provided by LocationIQ.com).
Accommodation in Bacharach
Being a small town we opted to stay in Koblenz and tour it as a day trip although we have to confess that we would have loved to spend the night in this amazing place. In particular, we think it is the ideal place to relax, hike, walk along the Rhine and taste some of the best wines in the region.
Below is a list of some of the accommodation in Bacharach that we think offers the best value for money. In particular, we have chosen them on the basis of both the average rating of their guests and their comfort.
Gästehaus Ströter: This family-run guest house enjoys an idyllic location beside a stream, around 5 minutes' walk from the centre of Bacharach. It offers a large sun terrace, and all rooms include a private bathroom. Free parking spaces are available in the surrounding area, and private parking spaces can be reserved.

Altkölnischer Hof: This family-run hotel is housed in a typical half-timbered building on Bacharach's historic market square, and its rooms feature a country-style design with traditional wooden furniture. It is worth mentioning that the breakfast is included in the price and that the hotel car park is located about 150 metres from the hotel.

Hotel am Markt Bacharach: This hotel is also located next to the market square in an old house and its rooms are decorated in a romantic and modern style. Breakfast buffet is of course included in the price.
Where to eat in Bacharach?
Being a city that attracts a lot of tourists, you can find restaurants on almost every street corner. We opted for a typical one, called Weingut Friedrich Bastian and our menu was: sausages with potatoes and local beer. The service was excellent and the portions very generous, as is usual in Germany.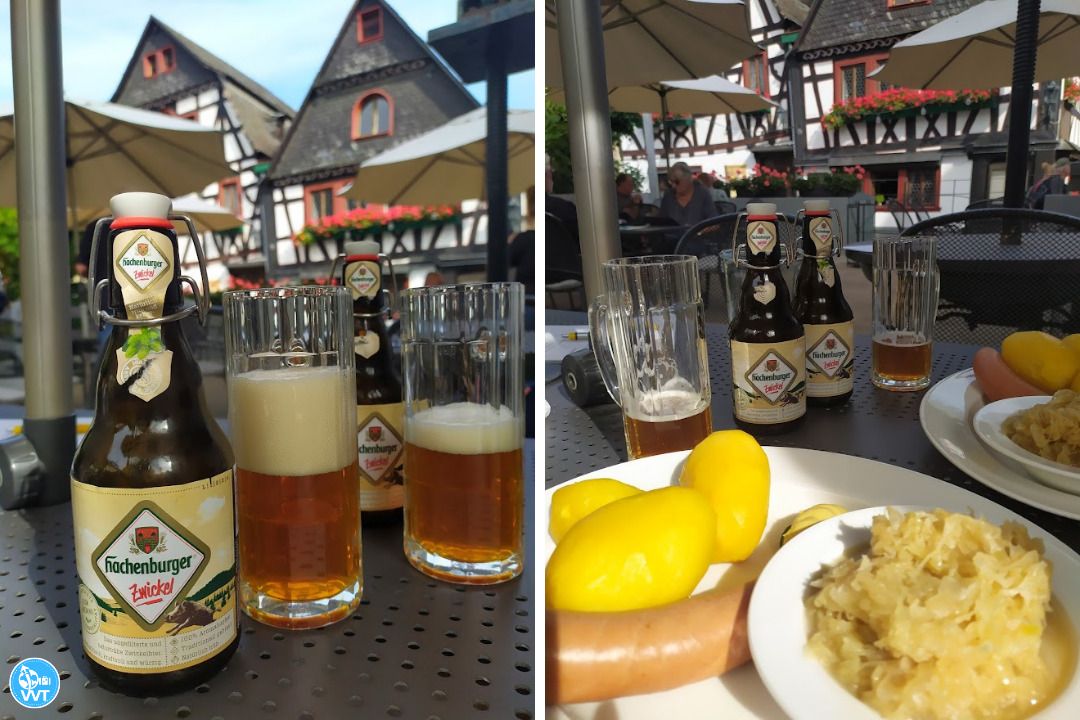 More information?
Below is our video of Bacharach (with English subtitles). If for some reason the video does not load or you encounter any other problem with its playback, you will be able to watch it directly from our YouTube channel by clicking up here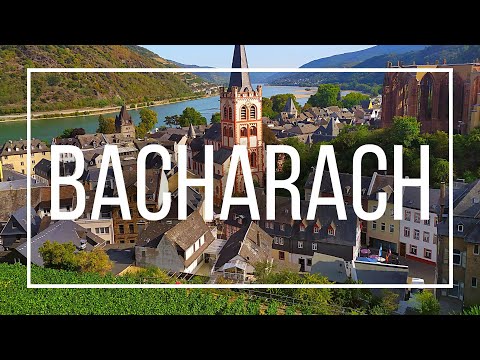 Thank you very much for making it to the end of the article. If you liked it, don't hesitate to share it on your social networks by clicking on the icons below and to subscribe to our YouTube channel. Until next time!
Are you planning your trip? Our recommendations: