Bamberg, Germany | Top Germany's Medieval Towns
---
This post may contain affiliate links. These links are special because we may receive a commission, at no cost to you, if you decide to make a purchase by clicking on them.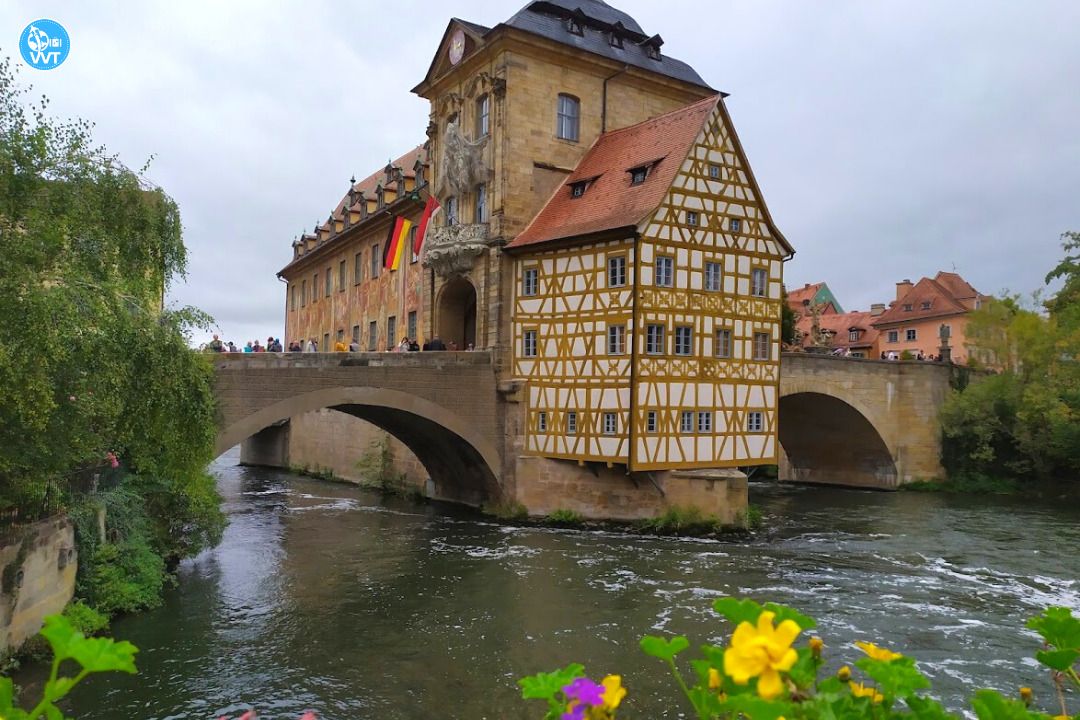 A brief history of Bamberg
Bamberg was first mentioned in 902, when the Babenberg family built a castle. Around the year 1000, the whole region was Christianised by Benedictine monks and soon after they had an important cathedral (1012) and an abbey (1017). Under the control of the bishops, the diocese continued to grow until the mid-16th century, when it lost much of its territory due to the Protestant Reformation. In 1700, the ruling Prince-Bishop (Lothar Franz von Schönborn) considered the medieval town to look poor and old-fashioned and offered the citizens several years without taxes in exchange for renovating their houses. Fortunately, the city remained untouched during the conflicts of the world wars and for this reason its historic buildings have remained largely intact. It is undoubtedly one of the top Germany's medieval towns and its old town is one of the largest preserved historical centres in Germany. In particular, it was declared a UNESCO World Heritage Site in 1993.
Where is Bamberg located?
Bamberg is located in the north of the state of Bavaria and is easy to reach by train. There are direct and frequent train connections from Nuremberg (1 hour, 60km), Würzburg (1 hour, 95km), Munich (2.30 hours, 235km) and Frankfurt (3 hours, 230km). Below you will find a widget by means of which you can evaluate different options on how to get to Bamberg from any other city. In particular, we always recommend using public transport. The Deutsche Bahn (DB), which is the main railway company in Germany, has Regional Tickets that allow you to combine different means of public transport for one or more people throughout the regions (states) that make up Germany. Public transport in Germany is efficient, clean and accessible. Another option is to rent a car, the landscape is one of the most enchanting in Germany! By clicking here you will have access to the widest variety of vehicles at the best prices.
How to get around Bamberg
We travelled from Nuremberg to Bamberg by train and used the Bavarian Regional Ticket which can be used in groups of up to 5 people and is valid Monday to Friday from 9:00 a.m. to 3:00 a.m. the following day; Saturdays, Sundays and holidays from midnight to 3:00 a.m. the following day. It costs a basic ticket of 25 EUR (one passenger) + 8 EUR per additional passenger, i.e. we paid 33 EUR for two people. This regional ticket allows unlimited travel in the region and some towns in neighbouring regions, so it can also be used to visit the area around Bamberg.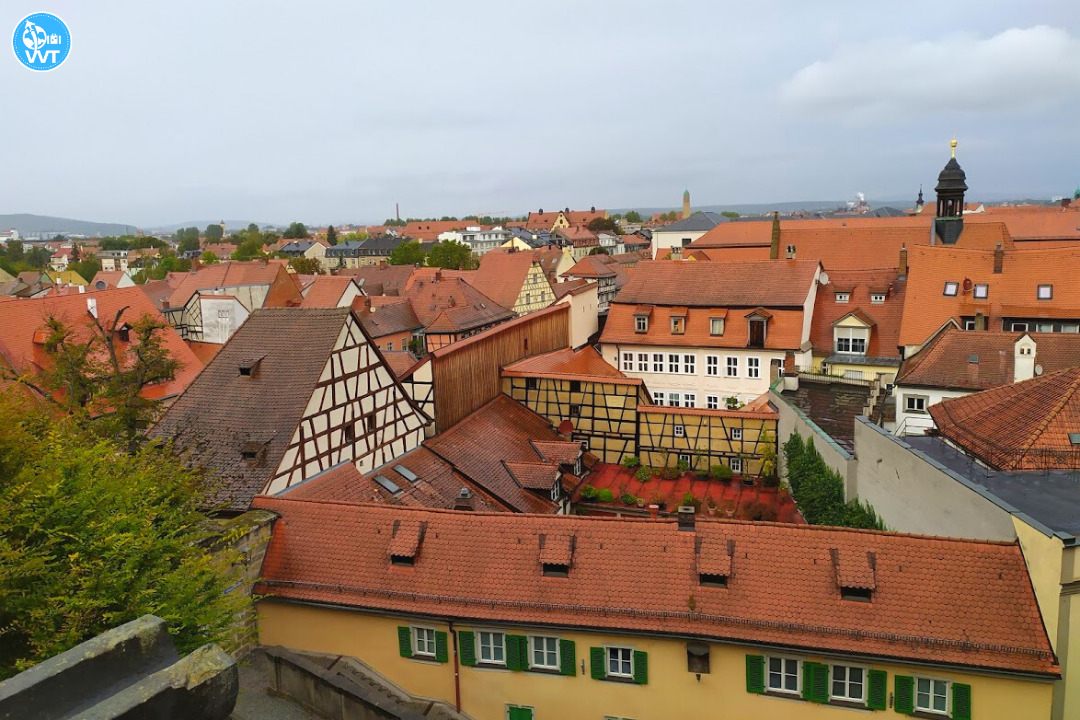 What to see in Bamberg
The following is a list of Bamberg's main tourist attractions. We particularly enjoyed wandering aimlessly through the cobbled streets, admiring the colourful facades of the houses and discovering the hidden corners one by one. It is simply a medieval town straight out of a storybook!
Bamberg's Old Town Hall (Altes Rathaus): the most emblematic building of the city, it is built on an island which is accessed by two bridges. This town hall was first mentioned in 1387, although over the years it has changed styles. Inside you can visit the Ludwig porcelain collection belonging to the Bamberg city museums, which is one of the largest of its kind in Europe.

Bamberg Cathedral (Kaiserdom SS. Peter und Paul und St. Georg): is one of the so-called Imperial Cathedrals of the Rhineland-Palatinate and is the seat of the Archbishop of Bamberg. It was founded by Emperor Henry II in 1004, although its construction was completed in 1012. Over the years it has suffered several destructions by fire and numerous reconstructions, the last one in 1974. Access is free and guided tours are available.

The Old Residence in Bamberg, Germany

Old Residence (Alte Hofhaltung): it is located next to the cathedral and was built at the end of the 15th century. Between the 16th and 17th centuries it served as a residence for the city's bishops. Today it houses the Bamberg History Museum and even if you do not visit it, you can enter its courtyard free of charge and admire the ensemble of medieval houses that it preserves.

Rose Garden (Rosengarten): it is a baroque garden located behind the New Residence. It is one of the must-see sights, as in addition to being very beautiful, it has incredible views of the city. Admission is free and free of charge.

Rose Garden in Bamberg, Germany

New Bishops' Residence (Neue Residenz): from 1602 it was the residence of the prince-bishops of Bamberg, replacing the Old Residenz and is the largest palace in the city. It now houses the Bamberg State Library and the Bamberg State Gallery.

St Michael's Monastery (St Michael): after Henry II established the diocese of Bamberg, the first bishop of Bamberg founded this monastery in 1015 and it is now used as a nursing home. We were not able to visit it as it was under construction and could not be visited.

Stroll through Little Venice (Klein-Venedig): it is a district located on the banks of the Regnitz River, between the Untere and Markus Bridges. It used to be the fishermen's quarter, where today you will find the typical colourful half-timbered houses. We recommend a walk here, although it is not the most beautiful thing this city has to offer.
Finally, here is an interactive map of Bamberg, where you can easily find the location of each point of interest. Furthermore, by clicking on the markers you can go directly to the paragraph containing the information about that place. Moreover, if you allow us to get your geographical location by clicking on the button below the map, you can also see your position and find the points of interest more easily (reverse search provided by LocationIQ.com).
Accommodation in Bamberg
The old town, although large, can be covered in a day. It should be noted that it is a somewhat hilly city, so some effort is required to explore it on foot. We didn't have a whole day, but an afternoon was enough to visit the main sights. However, if you want to enjoy the city at your own pace, visit St Michael's Abbey and visit one of its many museums, we suggest at least two.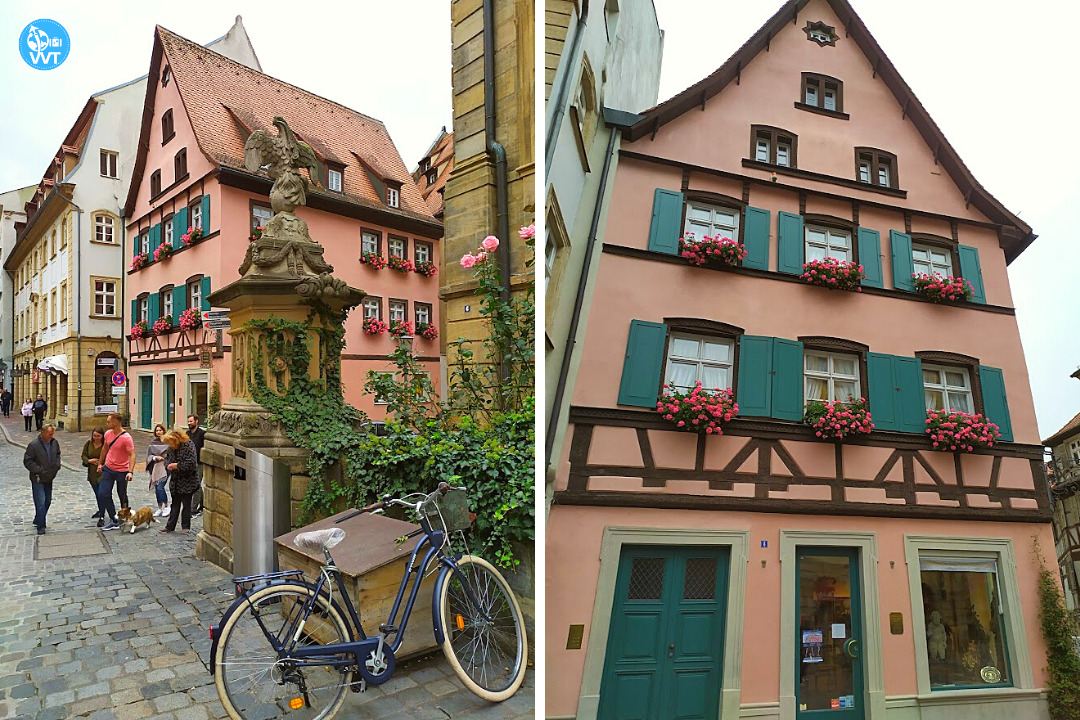 We particularly stayed in Würzburg and from there we visited not only Bamberg, but also Nuremberg and Rothenburg ob der Tauber. The train journey between these cities is short, at most 2 hours and the sights are spectacular, a highly recommended experience! Finally, if you wish to evaluate different accommodation options by clicking here you will be able to book the best hotels in Bamberg.
Further information?
Here is our video from Bamberg (with English subtitles). If for some reason the video does not load or if you have any other problems with the playback, you can watch it directly from here on our YouTube channel.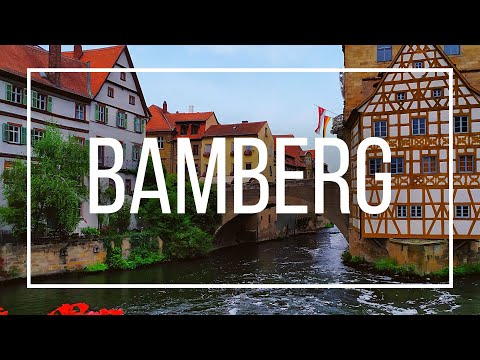 Thank you very much for making it to the end of the article. If you liked it, feel free to share it on your social networks by clicking on the icons below and subscribe to our YouTube channel by clicking here. See you next time!
Are you planning your trip? Our recommendations: